Some Rules are Meant to be Broken
Oh wedding traditions, there are way too many of you. I have never been all that good at being told what to do, so as the saying goes – some rules are meant to be broken.  Below we discuss just a few of the traditions we are saying beat it to.
Rule #1 – One Maid of Honour
You've chosen these girls for a reason. They know everything about you, what you love, what you hate, your first kiss, the list goes on. So why are you forced to choose just one? You shouldn't have to. Let them know they are all equally special – ask each 'maid to help with MOH duties. This way,  the entire bridal party is more involved and you are putting way less financial and emotional stress on one person.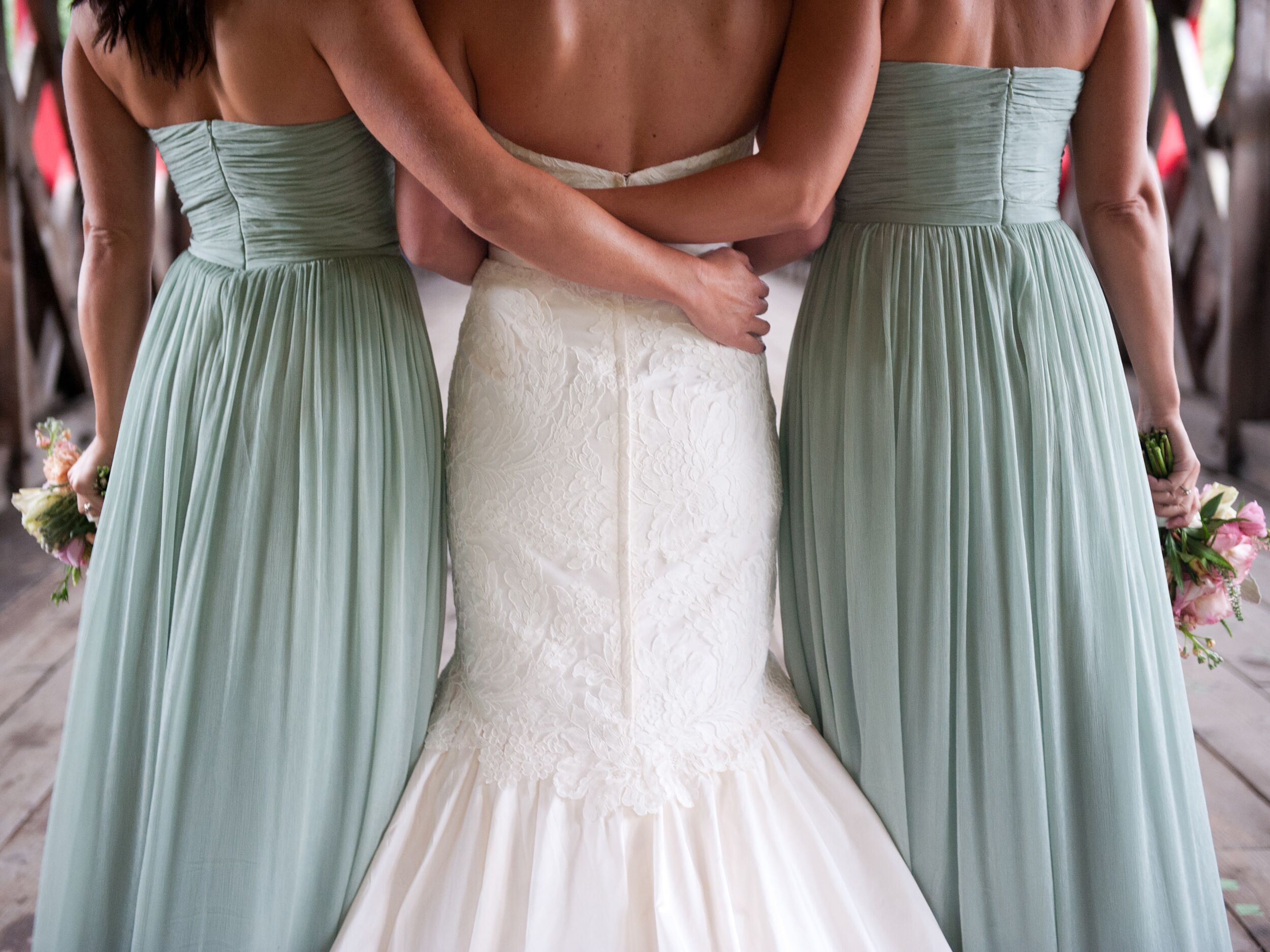 Credit: AMB Photo
Rule #2 – There Must be Cake
Now don't get me wrong, I LOVE an over the top, 6 tiered fondant covered, hand painted cake, but I cannot find it in myself to even consider eating a piece of that work of art. So why are couples spending hundreds upon thousands of dollars for something people are just too intimidated to eat? Save yourself some moola and consider trying something out of the box.  Pie stations, cupcakes, mouthwatering doughnuts, a macaroon tower, the list goes on. Alternatives can be less expensive, easier to serve, offer more flavour options, plus how can you not love a looooong table filled with beautiful bite sized treats. For those a little too scared to skip a cake-cutting photo-op, compromise with a small tiered topper for just you and your hunny.
Credit: Brian Rogers Photography
Rule #4 – The White Wedding Gown
Although a white or ivory  gown will always be elegant and timeless, we are starting to see bride's taking risks with the colour and cut of their dress, adding more character and flare to their day, think Jessica Biel's gorgeous pink Giambattista Valli gown. From blush, to pale blue, to espresso, brides are seriously stepping it up. Find a dress you are confident in and rock it girl! This is also a great way to showcase your amazing style and streamline your theme. Check out this gorgeous "Roaring '20s" delicately detailed flapper dress…now let's pick up Mr. Gatsby's jaw off the floor.
Credit: Eliza Jane Howell
Rule 4# – Saving the "First Look" 
Many couples are choosing to ignore the superstition that it's bad luck to see each other before the ceremony and we are loving it! While the first look in front of your friends and family is a tradition we don't want to ditch. Opting to do it before the ceremony can be a more intimate experience as well an opportunity to capture the two of you before the tears start falling.
Credit: Josh Elliot
Rule #5 – Matching Bridesmaids Dresses
Your ladies agreed to stand beside you on your special day so why force them to spend money on a dress they don't totally love? Each of your bridesmaids is  unique, as is their frame and style, so why not give them options. Pick a color, shade or style as a guideline and let your girls pick something they are comfortable and confident in.
Credit: Lauren Peele Photography
The last thing you want to do is say "I Do" in a conventional way. In 2017 we look forward to bending more rules and creating new traditions. What are some traditions you are ready to give up? What should stay?
xox Alexis